Wales' Roberts honoured at Eisteddfod with bardic name
[ad_1]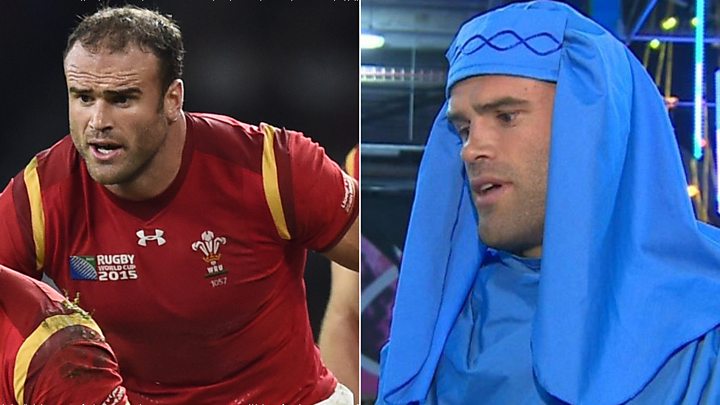 Wales rugby star Jamie Roberts has been honoured at the National Eisteddfod.
The 31-year-old former Lions centre was made a member of the Gorsedd of the Bards in a ceremony in Cardiff Bay.
The international, who has been capped 94 times for Wales and played on two Lions tours, was honoured for promoting the Welsh language among young players.
Others honoured by the Gorsedd's annual ceremony included Assembly Presiding Officer Elin Jones and the BBC broadcaster Vaughan Roderick.
Members of the Gorsedd wear different coloured robes depending on their achievements.
Wearing blue robes, Jamie Roberts was given the bardic name Canolwr y Crysau Coch, meaning the Red Shirts' Centre.
Speaking after the ceremony, Roberts said it made him "proud to be Welsh".
"It makes me feel very patriotic, and very proud to be able to speak our special language," he said.
Roberts said the ceremony gave him time to reflect on "what everyone who has been inducted today has given to the Welsh language over recent times".
"Learning about the stories of whatever field they have been in, and how much of an effect and influence they have had within the language, it makes you feel very proud to be Welsh," he said.
Roberts is the latest international rugby player to join the Gorsedd.
Former Wales hooker Robin McBryde carries the Gorsedd's ceremonial sword, while winger George North was honoured at the Eisteddfod in Anglesey in 2017.
The centre, who started his club career with Cardiff Blues and is now with Bath, said he had spoken to North ahead of today's ceremony.
"I was chatting with George North yesterday," he said.
"It was a very proud moment for him, when he got inducted up in north Wales where he grew up.
"Today is no different for me, being back in Cardiff, a very special city, a place that I've got very fond memories of and that I love coming back to."
[ad_2]
Source link