Paddy Jackson and Stuart Olding's contracts revoked
[ad_1]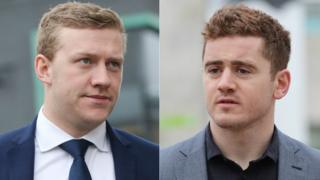 Ulster and Ireland rugby players Paddy Jackson and Stuart Olding have been sacked.
Last month, the players were cleared of rape after a nine-week trial.
In a joint statement on Saturday, the IRFU and Ulster said their contracts have been revoked with "immediate effect".
While the pair were cleared of rape, there had been controversy over social media and text messages they had exchanged.
The IRFU/Ulster Rugby statement said: "In arriving at this decision, the Irish Rugby Football Union and Ulster Rugby acknowledge our responsibility and commitment to the core values of the game: Respect, inclusivity and integrity.
"It has been agreed, as part of this commitment, to conduct an in-depth review of existing structures and educational programmes, within the game in Ireland, to ensure the importance of these core values is clearly understood, supported and practised at every level of the game."
They also said that Ulster and Ireland winger Craig Gilroy has been sanctioned over a text message he sent to Stuart Olding.
He will be unavailable for selection by Ulster until 26 April 2018.
Mr Jackson and Mr Olding were cleared of raping the same woman in Mr Jackson's house in the early hours of 28 June 2016.
Two other men, Blane McIlroy, who was accused of exposure, and Rory Harrison, who was charged with perverting the course of justice and withholding information, were also found not guilty.
'Sadness and regret'
In a statement to the Press Association Mr Jackson said he was "deeply disappointed" about the outcome of the IRFU and Ulster Rugby's internal review, which was announced after the rape trial ended.
"However, I recognise that my behaviour has fallen far short of the values expected of me as an international player, a role model for the game of rugby and as a son and a brother. I am truly sorry," he said.
"Since I was a young boy it was my ambition to play for Ulster and Ireland and I am extremely proud, privileged and honoured to have done so.
"It is therefore with great sadness and regret, but with many cherished memories, that I leave that behind."
On Friday evening, dozens of people staged a protest outside the Kingspan Stadium in Belfast ahead of Ulster Rugby's match against Ospreys.
The rally was organised by Belfast Feminist Network.
Last week, a crowd-funded advertisement was taken out in a Belfast newspaper calling for Mr Jackson and Mr Olding to be dropped by Ulster and Ireland.
It described the Whatsapp messages that emerged during the trial as "reprehensible". Mr Jackson later apologised for the messages.
However, a separate advert was published days later, calling on Ulster and Irish rugby to reinstate "innocent men" to playing duties.
That advert was signed by "real fans standing up for the Ulster men".
[ad_2]
Source link